New Bridge (Buccleuch Street Bridge)
Edit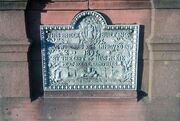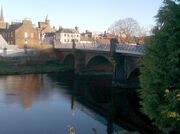 Built in 1793.  Substantially rebuilt in 1893. Renovated in 1930s and 1980s.
A plaque on the brige commerates the reconstruction of the bridge.  It shows how the bridge looked before and after the upgrade in 1893.
Old Bridge (Devorgilla Bridge)
Edit
Originally a  wooden bridge built in the 1260s by Balliol Devorgilla. Current bridge originally constructed c1432 but mostly rebuilt after a flood washed most of it away in 1619.  The parapet was rebuilt in 1725.  Three arches were removed between 1794 and 1825 to widen the bank to allow better access to the New Bridge.
An account from 1723 suggested the bridge may have had as many as 13 arches.  19th century investigations failed to find any evidence for more than the nine original arches.
Suspension Bridge
Edit
Pedestrian bridge built in 1875 to allow mill workers to easily cross the river near the mills.  Rebuilt in 1985.
St. Michael's Street Bridge
Edit
Completed in 1927. Offically opened by the Duke of Buccleuch in 1929 formally joining the two burghs.
This bridge had been in the planning stages for a considerable length of time before construction began. The original plan dates to 1913 when proposed by the Dumfries town council. The original estimate of the cost of construction was £5000. This was to be split between the two burghs and a donation by a local mill owner. Eventually a government grant was also used and the eventually cost after 18 months of work was over £50,000.
The bridge is built from reinforced concrete and faced with sandstone. Its construction was seen a symbolic link between Dumfries and Maxwelltown. The coat of arms of both burghs is featured on the side of the bridge.
External Links
Edit
St. Michael's Street Bridge under construction 1927