The square is a large open area in the town centre on the High Street.  Once a major road junction in Dumfries it is now part of the pedestrianised area.  It features several large raised flower beds.
In 1915 many buildings were demolished at the east side of the square. When demolition was completed, several  narrow closes were combined to make what is now Great King Street. 
Queensberry Monument
[
]
Originally constructed in 1780 as a memorial to Charles Douglas 3rd Duke of Queensberry.  It was created by the famous architect Robert Adam.  The monument was moved in 1934 due to concerns about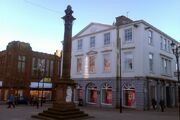 levels of rising traffic.  It was placed for many years in front of the county buildings in English Street. The monument was returned to the square in 1990 after the town centre was pedestrianised. The column is 6.4m (21 feet) tall.
Trades Hall
[
]
The Trades Hall was originally built in 1804 over the meal market.  The building was first occupied in 1806.  The ground floor was converted into shops in 1847. It was renovated (as indicated by a plaque) in 1988.
Numerous businesses have used the all or part of the building including - the electricity showroom and Liptons.
Imperial Restaurant
[
]
This large building on the corner of Great King Street and Queensberry Street this was first opened in 1924 by Mr P. T. Ferguson. Later moved to newer larger building on opposite side of Great King Street opened in May 1930 for the MP for Dumfries Dr. Joseph Hunter.
The original building became the British Linen Bank and later the Bank of Scotland.
External Links
[
]